– Over 5500 units in use worldwide –
The only gas YAKITORI/ROBATA GRILL in the world that is comparable to real Binchotan charcoal grilling.
With infrared technology is able to produce intense heat that is required to cook food to perfection.
The results are dramatic and delicious.
Real charcoal can be added for additional scent and flavour
Suitable for yakitori, robatayaki, skewers, kebab, steak, fish, vegetables, ribs, satay, chuan, kawap.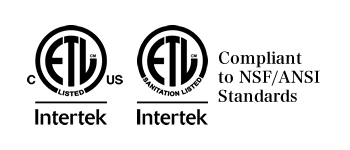 We can export from JAPAN to all over the world
Using a prosperous restaurant
The only commercial grilling machine
that can be used with natural charcoal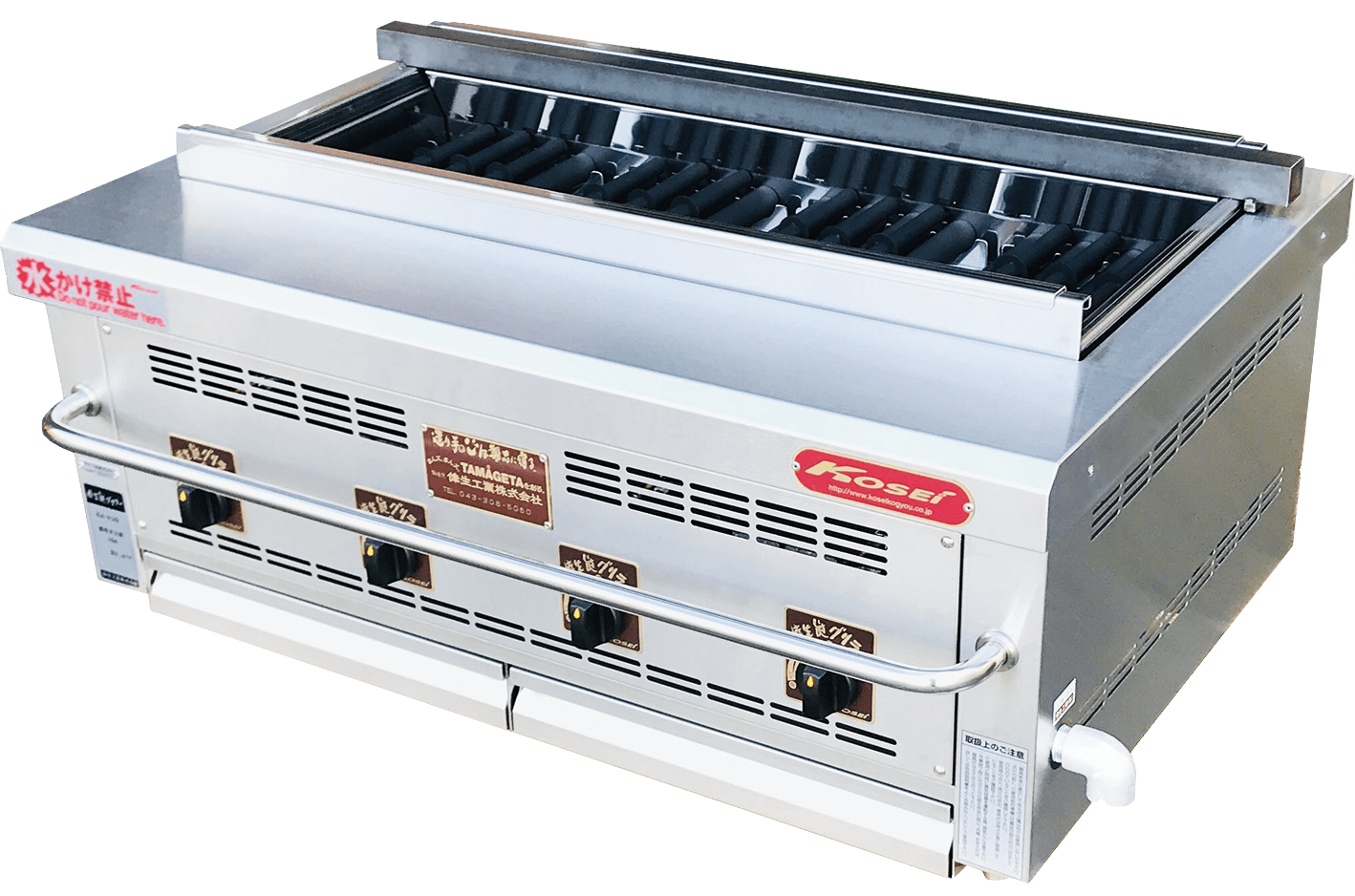 KA-G
Can add small amount of real charcoal for added scent and flavour

Suitable for a wide variety of foods -skewers, steak, fish ,chicken or pork.
Offer your customers the great taste of charcoal-grilled food without the hassle and mess of real charcoal.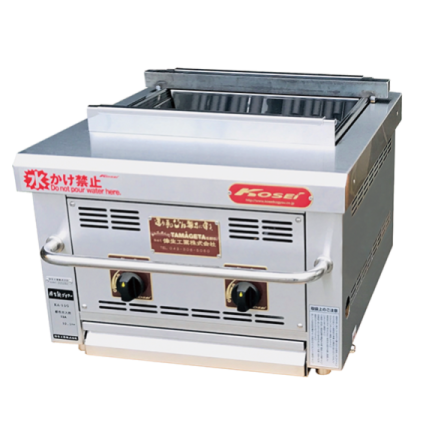 KY-KL
For foods on skewers and Japanease Yakitori

Available for any size of Yakitori and skewer.
No need to be bothered about SMOKE or SOOT any more!!

Smoke-free! But yummy flavor of Charcoal-Grill is not lost!
Melt away excessive fat! Enjoy juicy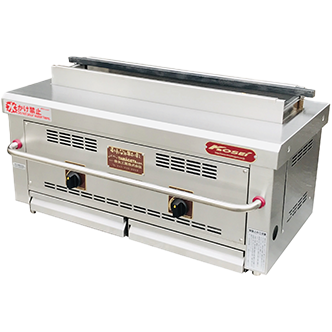 Why Kosei is special compared to other grillers
Charcoal Only Grill
Other Yakitori Gas Grill
Radiant Charbroile
/ Shish Kebab
Electric Grill
– Utilizes messy, dirty, and
expensive fuel that requires
a lot of cleaning
– Uneven heating, and hard
to control
– Takes time and effort to
reach the perfect
temperature for cooking
– Dangerous to handle
– Inefficient as it requires
high BTU to heat air rather
than food
– Incapable of reaching
high temperatures
– Has the tendency to dry
out food
– Unable to utilize charcoal
for scent and flavour
– Inefficient as it requires
high BTU to heat air rather
than food
– Incapable of reaching
high temperatures
– Has the tendency to dry
out food
– Difficult to clean &
maintain
– Unable to utilize charcoal
for scent and flavour
– Requires a lot of
power, usually three phase
– Difficult to clean, as
parts cannot be submerged in water
– Unable to utilize charcoal for scent and flavour

The Kosei Infrared Grill

– Very fuel efficient as it utilizes infrared heating to reach extremely high temperatures comparable to charcoal using less gas
– Directly heats food instead of heating the air, therefore retaining more moisture
– Capable of using charcoal to give food additional scent and flavour
– Can cook large variety of food such as steaks, skewers, vegetables, burgers
– The only commercial grill that you can easily take apart to clean without using any tools
What is Infrared Heating of KOSEI CHARCOAL?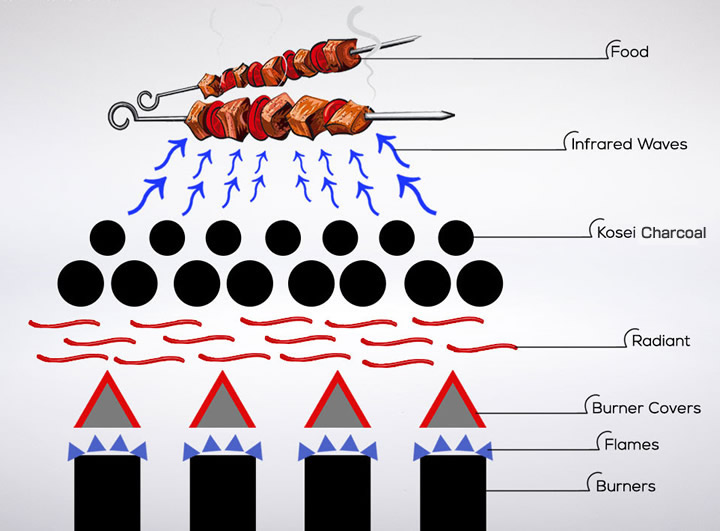 Infrared waves can produce heat which is by far the best way to grill food. Infrared heat can travel a great distance without losing much heat or energy until it reaches the food you're grilling, much like charcoal and the sun.
The Kosei infrared grill uses special Kosei Rods heated by gas burners that radiates infrared heat. The high temperature makes it easy to sear and grill food, cooking it to be crispy on the outside yet moist and juicy on the inside.
By using infrared heating, the Kosei infrared grill is more efficient than normal gas grills and can reach higher temperatures faster while performing with a lower BTU.
More about KOSEI CHARCOAL
infomation from KOSEI
・【New model】  KAW (wide grill area)model was released.
・Arabic website is released by Purerange(Distributor in North America and South America),please take a look.
لقد أصدر موقع عربي
・Purerange (Distributor in North America and South America) has demonstration equipment in their show room
・We are looking for a distributors in Asia and Middle East,please contact us.
・DXF file is now available for download
・Introduction of the distributor and agent
・Comfirm video of smokeless griller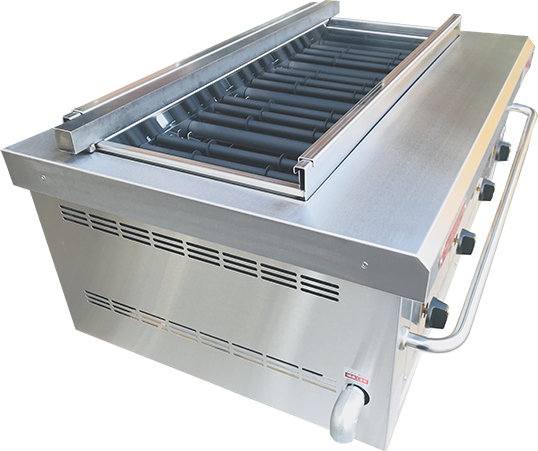 Comments from Jiro Suyama, Representative Director--
Foods cooked with natural charcoal are delicious...
But charcoal is difficult to handle for people without experience, and expensive...
Yet I still want to use charcoal...
The Kosei Charcoal Griller was developed to meet such a demand.

The grill uses gas, which is most low cost, easy to use, and cleanest heat source.
By transforming gas into a form of heat with the same combination of near and far infrared waves as charcoal, foods cooked on the grill turn out the same as those cooked with natural charcoal.
As a result, this product has attracted the notice of professional chefs for over 30 years.

This grill has sold over 5,500 units in Japan and abroad
The grill is used by all types of customers, from large chain restaurants to individual restauranteurs, in environments including izakayas, yakitori restaurants, Japanese restaurants, hotel restaurants, steak houses, teishoku restaurants, Italian restaurants, hamburger shops, eel restaurants, sushi restaurants, French restaurants, bento restaurants, employee cafeterias, delivery and takeout restaurants, as well as to make pork bowls, side dishes, and gyutan.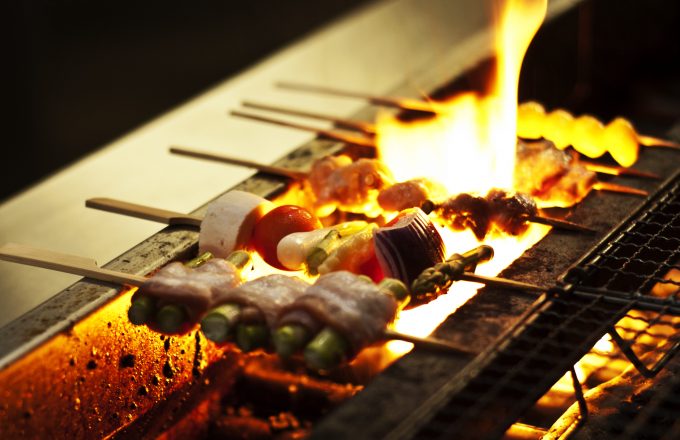 Our grill has attracted notice in Japan and abroad
Our grill is the only commercial grill in the world that allows users to give foods a charcoal taste by just using a small amount of charcoal together with gas.
We offer a comprehensive after-purchase support network. Customer support is also provided for direct sales and exports.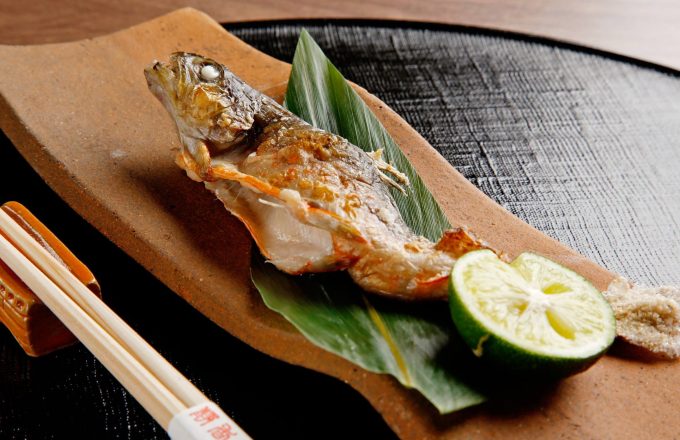 This product is designed to support customers with a passion for grilling
While the grill is a little expensive, it achieves cooking results beyond expectations.
With its uncommonly high durability already proven, this product continues to support thriving restaurants.
In addition, our smokeless burner (smoke is not emitted) has been a huge hit in recent years.
Our company continues to develop unique products that we are sure customers will be excited to learn about.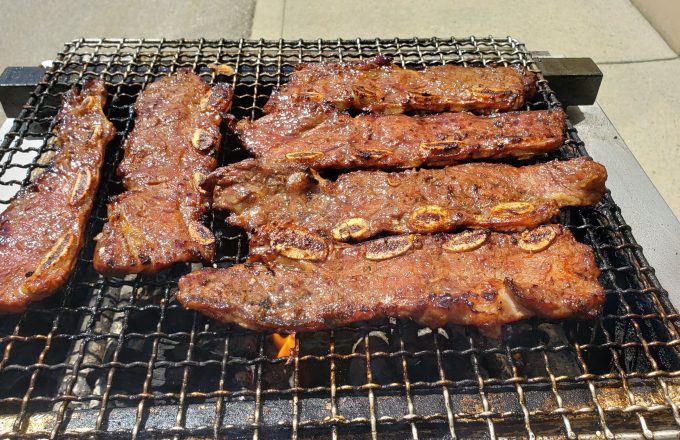 KOSEI CHARCOAL
KOSEI CHARCOAL is original ceramic charcoal
which radiate high quality far infrared rays and
grill all kinds of foods & pursuit great taste.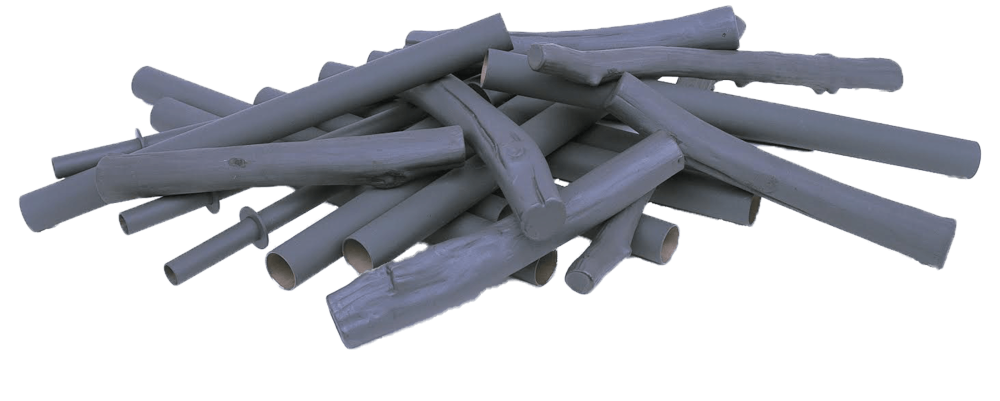 We can meet such requests
✓ I want to try grilling in the test kitchen
✓ I want a grilling machine to replace charcoal (I want to use charcoal together)
✓ I want to grill in front of customers while fascinating
✓ I want to standardize operations for chain restaurant development
✓ I want to bring out the taste of the material 120%
✓ I want to produce stable quality grilled food on a grilling machine that anyone can easily grill
✓ I want to reduce running costs
✓ Less smoke is better
✓ I want to shorten the grilling time
✓ I want to create a prosperous restaurant
FAQ
Is it possible to use LP gas?
Yes. It is possible. We can handle not only city gas, but also overseas Natural gas and Southeast Asian town gas. Many customers use LP gas in kitchen cars.
What is Kosei Charcoal?
A general term for our proprietary ceramic coatings. We devised such a name because it emits far infrared rays that are quite similar to natural charcoal when heat is applied.
What is Kosei Charcoal >>
Is Kosei charcoal attached to the main body?
Yes, Kosei charcoal, burner, burner cover, and one iron moxibustion(iron square bar) are included in the main body.
Why is it best suited for take-out delivery formats?
This is because it is delicious not only when it is freshly grilled but also when it is cooled due to its unique far-infrared effect. If you take it home and microwave it, you can return it to a state close to freshly grilled.
How long does it take to replace Kosei charcoal?
It is assumed to be about 5 years, and depending on the cleaning method, frequency, and usage, the range will vary from those who need replacement in 3 years to those who will use it for about 7 years.
What are the features of the product?
Although it is originally gas, it can be grilled close to natural charcoal. It is possible to add a charcoal scent by using a small amount of natural charcoal together. As a result, it is possible to easily reproduce charcoal grilling at low cost. It is also very easy to clean and maintain.
Why is the price higher than other companies' products?
This is because development and raw materials are costly. We spent a lot of time developing our own ceramic technology. In addition, since we want our products to be used by our customers for 10 years after they are introduced, raw material costs are required to manufacture the main body into a strong structure. However, many customers understand that it is actually cheaper when considering the performance and durability of the product and considering it cost-effectively.
Does it come with a net?
Since the net is not attached to the main body, it is accessories >>.
Even if it is not accessories of our company, it is possible to put most of the nets by moving the iron rod, so it is not always necessary if you already have a net.
One iron rod is attached to the main body.
Is there an electric type?
All of our grillers are gas type.
How high will the temperature rise?
900-1000 ℃ in the burner part It is about 500-600 ℃ for Kosei charcoal and 300-350 ℃ for grilled surface.
However, I do not think that the high temperature is proportional to the quality of the grilled product, so high temperature is not the strength of the griller, but the quality is important.
Is it true that even a beginner can stand in the crematorium in 3 days?
It doesn't actually take three days, usually half a day to a day.
In order to avoid hype and for those who are not good at cooking, we set aside 3 days.
Is it possible to sell directly? Which is cheaper, in that case or
when purchasing from a distributor?
Direct sales are also possible. Regarding the price, we do not know the selling price of the distributor, so I'm sorry, but I can't answer.
I think it is certain that you can request a quote from both parties.
However, for customers far away, we recommend that you purchase from an agency in case of maintenance.
Is it possible to export overseas?
Yes. It is possible. Gas types and certifications vary from country to country, so it is recommended that you check before purchasing. Please contact us for advice on regions and countries where we have export experience.
What is the warranty period?
It will be one year.
Is maintenance / cleaning easy?
It's very easy. Most parts can be removed and disassembled and cleaned without using tools, so you can replace the parts (burner, charcoal, burner cover, etc.) yourself.
Why are major chain restaurants introducing it?
It has been introduced after being evaluated for its grilling, ease of handling, and few failures.
It seems that there are natural charcoal, electric type, lava stone, ceramic heater, etc. What is the best?
I think that each has its own characteristics and advantages, and we hope that customers can actually try and decide which one is better.
BLOG
We will introduce the latest information and introduced restaurants on BLOG.